We've seen snow in nearly all its forms this winter - as tiny pellets, as freezing rain, slow and stately, whipping horizontal on the wings of a blizzard, even accompanied by thunder and lightning. Last week's banks of fluff turned to stone under a cold rain, then were blessed with a softer coat last night.
I am reminded of this passage from
Cormac McCarthy's The Crossing
: "The snow in the pass was half way to the horse's belly and the horse trod down the drifts in high elegance and swung its smoking muzzle over the white and crystal reefs..."
Did you see Cormac McCarthy at the Oscars on Sunday? They cut to a shot of him and his young son as the Coens were accepting the Best Adapted Screenplay award for their version of his book
No Country for Old Men.
That was my second favorite moment of the night.
My first was, of course, the entire
Once
narrative arc - First, the tension as the other best song nominees did their fancy stuff; Amy Adams's verbal gymnastics and Kristin Chenoweth's smiling soprano made their Swartz/Menken songs seem hard to beat. Then the satisfying sweetness of Marketa Irglova and Glen Hansard's duet, followed by the swoop of my stomach (perhaps a bit of what Colin Farrell and John Travolta felt when they slipped on that same slick spot onstage) as Travolta pulled the envelope out of his pocket. And Yes! Such real, un-Hollywood beauty and energy as the two take the stage. Tempered with a little disappointment, Irglova's stolen thank you moment. And a surprise ending - Jon Stewart heroically steals it back! And we get to hear her lovely heartfelt speech.
I believe
this
may explain why none of the other songs from "Once" (I thought the driving "When Your Mind's Made Up" and the anguished "Leave" to be compositions as strong as the delicate song that won) were nominated. Only songs that are written for the film in which they appear can be considered for nomination.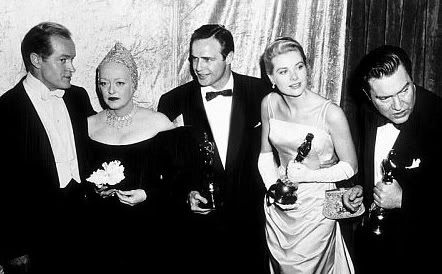 My third favorite moment of the night? A 1954 clip of Bette Davis, looking like a pixie alien in her little sparkly hat(!) as she hands the Best Actor award to Marlon Brando for On the Waterfront.